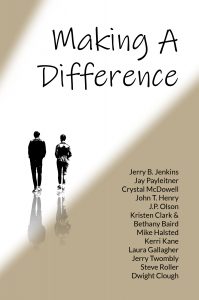 Great news! Making A Difference: How to Extend Your Influence and Transform Your World is now available on Amazon here.
I want to offer a big thank you to the people who helped make this possible.
Mega-best-selling author Jerry B. Jenkins (Left Behind series) graciously contributed chapters on writing a book and putting family first.
Best selling author Jay Payleitner wrote the Foreword.
Freelance writer Crystal McDowell contributed a great chapter on leaving a legacy.
Missionary veteran John Henry provided a powerful chapter on the foundation of making a difference: prayer.
International speaker and singer JP Olson shared what it means to take a risk for the Kingdom of God.
YouTube ministers Kristen Clark and Bethany Baird weighed in on how to start a ministry.
Serenity Home founder Michael Halsted shared the journey that led to the founding of their sober living ministry, and he weighed in on the importance of putting marriage before ministry.
Master connector Kerri Walker-Kane shared how God puts together "Divine connections."
The Creative Company founder and president Laura Gallagher shared how to use social media to become a change agent.
Fund-raising expert Jerry Twombly talked us through the nuts and bolts of raising money and finding volunteers.
Business thought leader Steve Roller shared insights that lead to solopreneur success.
And I threw in some thoughts on your gift of influence, how to overcome that fear of public speaking, publishing options for new and unknown authors, and how to turn that dream into reality.
It all mixed together and created a book I think you will love, read, reread and refer back to often on your journey to make a difference in this world.
Filed under: Uncategorized